And yes, she IS obsessed with red and aqua! Look at these adorable pincushion cuffs I made today! I made one for myself and decided they were sew easy that I'd make another one for Regina at the same time! I used the
Lil Plane Jane Aqua
and
Red and White Dot
from Michael Miller. They were SUPER DUPER easy to make and so fun and fast! I dug around in some buttons I inherited from my grandmother and found a really cool white pearly one and one that had a little flower crocheted in the center. Can you see it in this picture?
The neatest trick I learned while making these was to add an old cut up credit card behind the pincushion part, on the wrist band to protect my arm from stray pins! Neat idea! Thanks
KeykaLou Patterns
for this great tutorial! It feels so good to have actually fininshed something from start to finish today. Yesterday I managed to get most of a quilt top finished too. I just need to grab some more fabric to finish the outside border, backing and binding, of course. I call it the Love U Charm Quilt because I used 1
Love U Charm pack
and 1 yard of
Bella Solid Mint
for the sashing.
I think this will be a great blanket for a little boy (or girl), the fabrics are so fun and cute! I can't wait to go to Regina's tomorrow to get the rest of the fabric. That's the update for now. We have some yardage of Martinique coming in soon and Make Life from Sweetwater, which is going to be super adorable for those of you who enjoy scrapbooking.
Happy Stitches to You!
Anna
I am SEW proud to be able to link this up to i made it! Blog party Thursday over at Everything Etsy!

Also linking to V.O.T.W.
And while I'm at it, a jump on next week: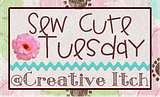 Can you tell I just discovered the LINKY LOVE of link parties??